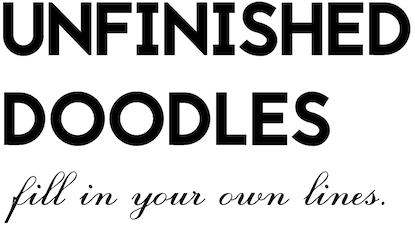 Unfinished Doodles
Unfinished Doodles a.k.a. Doodle Pad ('doodle pad' in Google Image | A Doodle Pad project on Studio 360) is a set of 'unfinished' doodles made by Nomi.
There is no rule for how to use those doodles, but the basic idea suggests that you finish the doodle by drawing your own lines. Of course, you are invited to use it in your own way, though. Surprise me.
If you are still not quite sure what to do with them, I made a Vine for you. There you can see what you could do when you have some free time in a morning.

The photo used in the cover image was shot by Julian Dasgupta (A Dippy Weasel | @spunior) at Amazing X-M4RK3T.
This is a Creative Commons downloadable. (What does that mean?)
Download instructions
Download and unzip.
The file contains 8 png files.
Feel free to print/modify/post/etc. it.
It would be rad if you would be awesome enough to give me appropriate credit.
Download
Click download now to get access to the following files: